Yes, I said it. I do love high-maintenance gardens. What exactly is a high maintenance garden? It is a landscape that requires a high level of human involvement to maintain a desired look.
I don't love them simply because I like to do unnecessary work.
I don't love them because professional gardeners need more job security.
I don't love high-maintenance gardens that are not maintained well. Those just look bad.
I don't love high-maintenance gardens that are poorly designed and full of problems, like fast-growing plants in the wrong spot, or an area that continually floods and causes a mess.
I don't love high-maintenance gardens that are uncomfortable to be in. Gardens are primarily for people, not plants.
I get the opportunity to speak with many homeowners about what kind of landscapes they want. After years of consulting, certain phrases are almost a given. These requests, in particular, show up time and time again:
"More color" – 97% of clients (numbers are approximate)
"Deer-resistant plants" – 86%
"Screen a view of the neighbors" – 44%
"No thorny plants" – 17%
"Low-maintenance" – 100% of clients
So many people request low-maintenance that I normally just assume this is their desire, without actually asking about it. Perhaps I shouldn't assume. What do clients really mean when they request a "low-maintenance" garden? I think it means they don't want to waste time and money, which is a very rational request indeed. A low-maintenance landscape is one that does not require much human involvement to maintain a desired look.
Clients who want low-maintenance do not want to create a situation where there is unfinished work to do outside, and they have neither the time nor desire to do it. They do not want to waste part of their household budget paying others to do yardwork that could be eliminated altogether by simplifying the yard and having less plants. These are all fine reasons to request a low-maintenance landscape.
Other homeowners want to create something unique out of their property. If the typical residential property is low-maintenance, then a high-maintenance landscape will truly stand out by contrast.
So, why do I love high-maintenance gardens? It's simple. They are typically the best and most beautiful. They usually have the most variety and detail. They have the most thought and effort put into them, and the results reflect this.
High-maintenance gardens are not for everyone. Deciding what type of landscape to create will be a balance of priorities on the part of the homeowner. Budget, available time for gardening, and (most importantly!) interest and desire….these are all factors in the decision.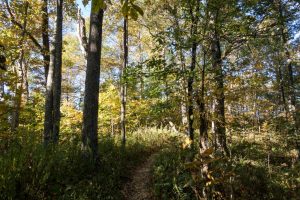 A high-maintenance design is not always necessary to achieve your goals. I once had a college professor who lived on a wooded lot. His landscape was zero-maintenance. None at all! Not a square inch of turfgrass to cut. No shrubs to shear. No plants to fertilize. Tree limbs and pinecones scattered across the ground, right where they fell. It's no small irony that this teacher was an expert on ornamental landscape plants.
To have a truly low-maintenance landscape, we would have to let nature take back over, allowing our homesites to gradually become reforested. Aside from removing the occasional tree that poses a safety hazard, this is the ultimate low-maintenance landscape. These kinds of landscapes can be wonderful and inspiring. They definitely have their place.
What about the Biltmore Estate, Callaway Gardens, Lockerly Arboretum, and the State Botanical Garden of Georgia? Are these your typical "low-maintenance" landscapes? Of course not! These places have a lot of attention paid to them by gardeners, designers, patrons, volunteers, administrators, etc.
While we don't all have the resources to create a botanical garden on our homesite, why not take a step in that direction? If it brings you any amount of joy in the process, the effort will be worthwhile. Don't cling to the low-maintenance approach simply because it is today's standard. Get to work on your own masterpiece, and embrace the challenge.
So yes, I do love high-maintenance gardens. And I know I'm not the only one.