Despite a most unusual year last year, it appears that in 2021, water is still flowing downhill.  Virtually every Lake Sinclair property slopes down to the shoreline or seawall, even if only gradually.  You know what this means.  When it rains, the water will be running across your yard, taking the path of least resistance as it heads toward the lake.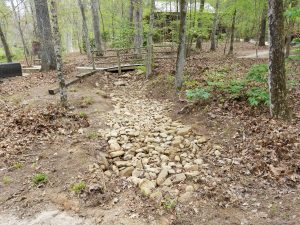 Many properties, especially those with lots of natural vegetation, will manage this flowing water quite well.  The trees and native plants will take up the moisture that they need, and the roots of those plants provide an underground framework that stabilizes the soil.  Natural ravines and ditches may channel the water in certain areas.
When we change the landscape by building homes near the shoreline, it's important to remember that when the house is complete, gravity will still be a thing.  Proper site grading and home construction can eliminate a host of drainage problems.  Diverting water away from the house through skillful shaping of the land is a crucial first step.
If you live at the lake and are trying to manage drainage issues, remember that your neighbors may have the same challenges as you.  (Or more likely, they are not thinking about it at all!)  Just keep that in mind as you ponder solutions.  
Lake lots tend to be long and narrow in order to maximize the number of lots with lake frontage.  One common drainage solution is to have ditches or channels between properties.  They can potentially catch water from both sides.  However, you must be aware of where the property line is.  If the ditch clearly falls on one lot or the other, due to the topography, that property owner would ideally come to some sort of agreement with you before you send more water runoff onto their property.  Above all, be a good neighbor.
Above-ground drainage solutions include swales or ditches that can come in a variety of designs.  If the slope is gentle enough to be mowed and it goes right across your yard, maybe you just keep it as lawn, knowing that the ground will be moist from time to time.  If you'd like something more decorative, dig it out a little deeper and fill it with stone to create a dry creek bed.  If the ditch does through a wooded area, maybe you don't need to do anything at all.

Below-ground solutions include catch basins (drains) that connect to pipes that carry water to a downhill location, and dry wells (an underground gravel pit that water can be diverted to).  If your work will be done close to the lakeshore, be sure to check to see if any special permits are needed.  Modifications to the flow of water into the lake can alter the water quality of the lake, especially if done on a large scale.
Buildings can be protected from most water damage through effective drainage solutions.  Drainage problems in the garden, however, are never quite fixed "for good".  An especially rainy year can create problems that maybe didn't exist before.  As gardeners, we look for the details.  After a storm, we often notice details such as mulch that has washed downhill, topsoil that has eroded, or a patch of lawn that stays soggy.  Each of these problems is unique to the specific property it is on.  But each can be addressed with creative solutions to improve appearance and function.   
Just remember: the fact that water flows downhill is not a problem; it's simply a fact of life, like sunshine.  We want sufficient rain to nourish our gardens.  Just as we choose plants that will fit the sunlight conditions of a site, we can design our garden to be resilient to the forces of rain and erosion.  I think that water will continue to flow downhill for a while.  But that's just one opinion.