In the gardening world, "trial and error" is acceptable. In fact, it's the only way of doing things. If you want to do something with no risk of loss or failure, then by all means, don't start planting things. They might die.
With our human tendency toward loss-aversion, we try to mitigate risk as much as possible. We buy intangible things like insurance. We make purchases more quickly when our satisfaction is "guaranteed".
What is a plant guarantee anyway? It's certainly not any kind of assurance that a plant will live and thrive. None of us have ever been given a "health guarantee" as we left the doctor's office.
A plant guarantee (or warranty) is basically a commitment to provide a replacement plant in case the first one dies. It's a way to lower the customer's risk, or perceived risk. Offering a plant guarantee is a business decision, and not a horticultural decision. Some companies or retail stores may offer a guarantee, and others may not, depending on their business model. When we as a company offer a plant guarantee or warranty, essentially we are saying this:
"Here is a plant that we purchased for you. (Maybe we even grew it ourselves.) As far as we can tell, it's a healthy plant, and it's ready to be planted in your garden. This plant is alive. Because it is alive, it is subject to death. In fact, it will most certainly die one day, hopefully a long time in the future. At this stage, we don't know of anything special to do to ensure that it will remain healthy, other than the expected… give it some water. There's probably already enough fertilizer in the pot to last a while.
Since we'll be planting it for you, we'll make sure that the location gets an appropriate amount of sunlight for the plant's needs, and that the soil conditions are ideal for growing healthy plants. If the soil is poor, we still may plant there anyway, but first we'll add some compost or soil conditioner to improve the soil texture and composition.
We'll check on the plant each time we're there to do garden maintenance. Sometimes we can catch problems before it becomes too late.
If the plant dies despite our best efforts to care for it, have no worries / regret / sadness. We'll go ahead and bring out another one for you, and we won't charge you for it. However, we'll do our best to figure out WHY it didn't thrive. After all, we may learn that this species is not a good one for this location. Maybe we need to consider a different plant altogether. If we have suggestions on what to do differently or which new plants to try, we'll let you know. That's what we're here for."
I've noticed that those customers who have the most experience gardening tend to be the ones who expect the least in terms of a plant guarantee. I suppose that is because in addition to the experience of walking through their beautifully-tended landscape, they've also witnessed plants unexpectedly shrivel up and die, despite their most fervent efforts. They've seen prized plant specimens attacked by insects that seemed to come out of nowhere. They've observed a young and hopeful tree eaten down to nothing by wild animals.
In other words, they win some, and they lose some. And so do we… believe it or not.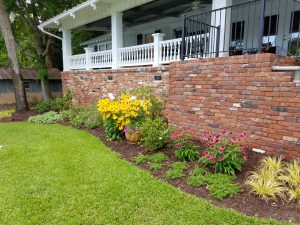 Despite our attempts to manage customer expectations by being realistic, don't forget that the vast majority of our plantings are successful, and yours will be too. Nature finds a way to do what it does. Look no further than the trees that grow out of cracks in the sidewalk.
Plant guarantees can be helpful. But not because they ensure plant survival. They ensure that your garden, as a whole, will be successful in the long run. And they give us all some peace of mind, which is worth a lot.
Kyle Burgamy
Landscape Architect