4 Easy Steps to a New Landscape
Contact Lakefront to schedule a consultation.
Meet at your property to discuss your goals, desires, and budget.
Meet again to review the proposed design and provide feedback.
Sit back and relax while the Lakefront team brings the plan to life!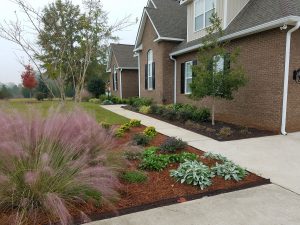 Lakefront is a design-build company, ready to take your project from concept to completion. After a consultation has been scheduled, the next step is to meet at your home to discuss your goals and desires for your landscape. As part of this initial meeting, we will discuss your desired budget, or simply recommend a budget if you are unsure.
The design phase normally takes a few weeks, but can run longer in the case of a large design. After getting your feedback and making any desired revisions, we then provide specific prices that are within your budget, and proceed with bringing the design to life!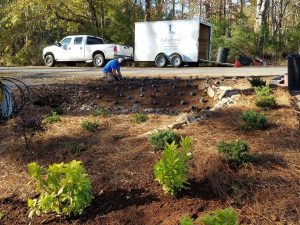 After installation, we offer continued support and advice as your landscape matures. For those who need it, we offer routine Garden Maintenance Plans to keep your property looking its best.
Kyle Burgamy, licensed Landscape Architect with Lakefront, has been assisting homeowners in the Milledgeville / Lake Sinclair area for over 10 years. He has served over 500 landscape design customers to-date.
Type of Design Projects:
New Construction
Landscape Renovation
Weekend Lake Homes
New Construction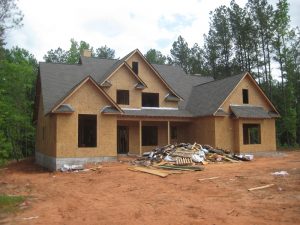 Are you in the process of building a home?  Whether you are building a dream lakehouse, a retirement cottage, or a rural estate… involving a landscape architect early in the process will open up opportunities for your property that you never considered.  At Lakefront, we are more than just "plant-people". Consulting with us to help design your outdoor spaces will result in a property that is perfectly suited to your lifestyle.
Trying to garden on a new construction homesite presents unique challenges.  Too often, landscaping is the last budget item on the construction checklist, and it is the first to get reduced when (surprise!) there are cost overruns.  Regardless of the budget, Lakefront has the practical experience to turn all of that red Georgia clay into a lush landscape, one that matches the quality and style of your newly built home.
Landscape Renovations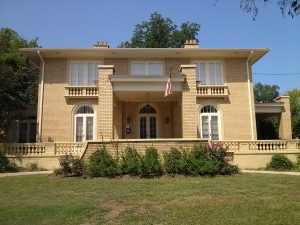 While mature plants can add value to a property, sometimes older homes are in need of a complete landscape makeover.  Perhaps you have recently moved into an established house, and you would like to customize the landscaping to your tastes.  Or maybe all of the plants are just past their prime and the yard needs to be completely redesigned. Whatever your unique challenge, Lakefront is happy to take on the hard work of removing old plants, and adjusting or redesigning existing landscape beds.
Weekend Lake Homes
In our area, many lake properties are part-time residences.  If you have a weekend home, we already know that you probably need a low-maintenance design, deer-resistant plants, plants that bloom while you're at the lake….etc.   While some of our customers are avid gardeners, many lake-dwellers are trying to minimize their time spent on home-improvement projects. After all, this is your vacation spot!  If you would rather spend your vacation time out on the lake, or in other pursuits, partnering with Lakefront can help you get back that leisure time, and still enjoy a beautifully maintained property.